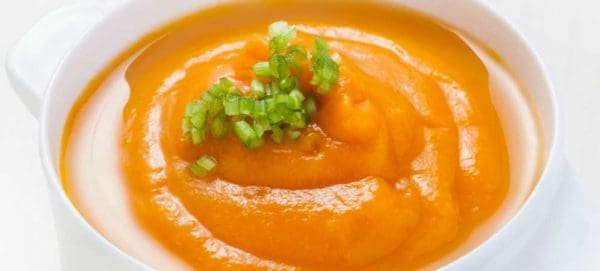 Orange-fleshed sweet potatoes are a satisfying and nutritious way to make the most of your fall meals. They offer an excellent source of vitamin A and a quality supply of vitamins C and B, dietary fibre, and antioxidant flavonoids. These energizing tubers contain 20 g of carbohydrates per 100 g, and their low-glycemic index helps maintain healthy blood sugar levels already within the normal range.
This wholesome recipe combines the succulent taste of sweet potatoes and carrots with the creaminess of coconut milk. Using a slow cooker makes it a snap and gives you the added bonus of having your soup perfectly warm and ready to eat as soon as you walk in the door.
Sweet Potato Carrot Soup
Ingredients:
2 large orange-fleshed sweet potatoes, peeled and sliced
4 carrots, peeled and sliced
½ white onion, diced
1 clove garlic, minced
2 Tbsps fresh ginger, grated
2 Tbsps coconut oil
3 cups low-sodium vegetable stock
¼ tsp pepper
200 mL coconut milk
Directions:
Combine sweet potatoes, carrots, onion, garlic, ginger, coconut oil, vegetable stock, and pepper in a slow cooker pot
Stir to combine
Cover and cook on low for 8 hours
Purée with a hand mixer or food processor until smooth
Stir in coconut milk until well blended
What's your favourite fall soup? Head over to our Facebook page and let us know, or give us a shout-out on Twitter!