Women's Multivitamin & Mineral, Whole Earth & Sea
Women in their childbearing years are out there conquering the world, whether running a startup or raising a family (or both). That kind of get-up-and-go requires proper nourishment if you want to avoid burnout.
Our vegan Women's Multivitamin provides comprehensive, wholefood-based nutrition specially designed to meet the needs of women.
Made with raw fruits, vegetables, and herbs – many grown on our organic, non-GMO farm and loaded with phytonutrients
Features many nutrients sourced from plants, such as vitamin C from amla and selenium from garlic
Contains 20 mg of iron per two tablets to support healthy red blood cell formation
View allergy info
Find a Retailer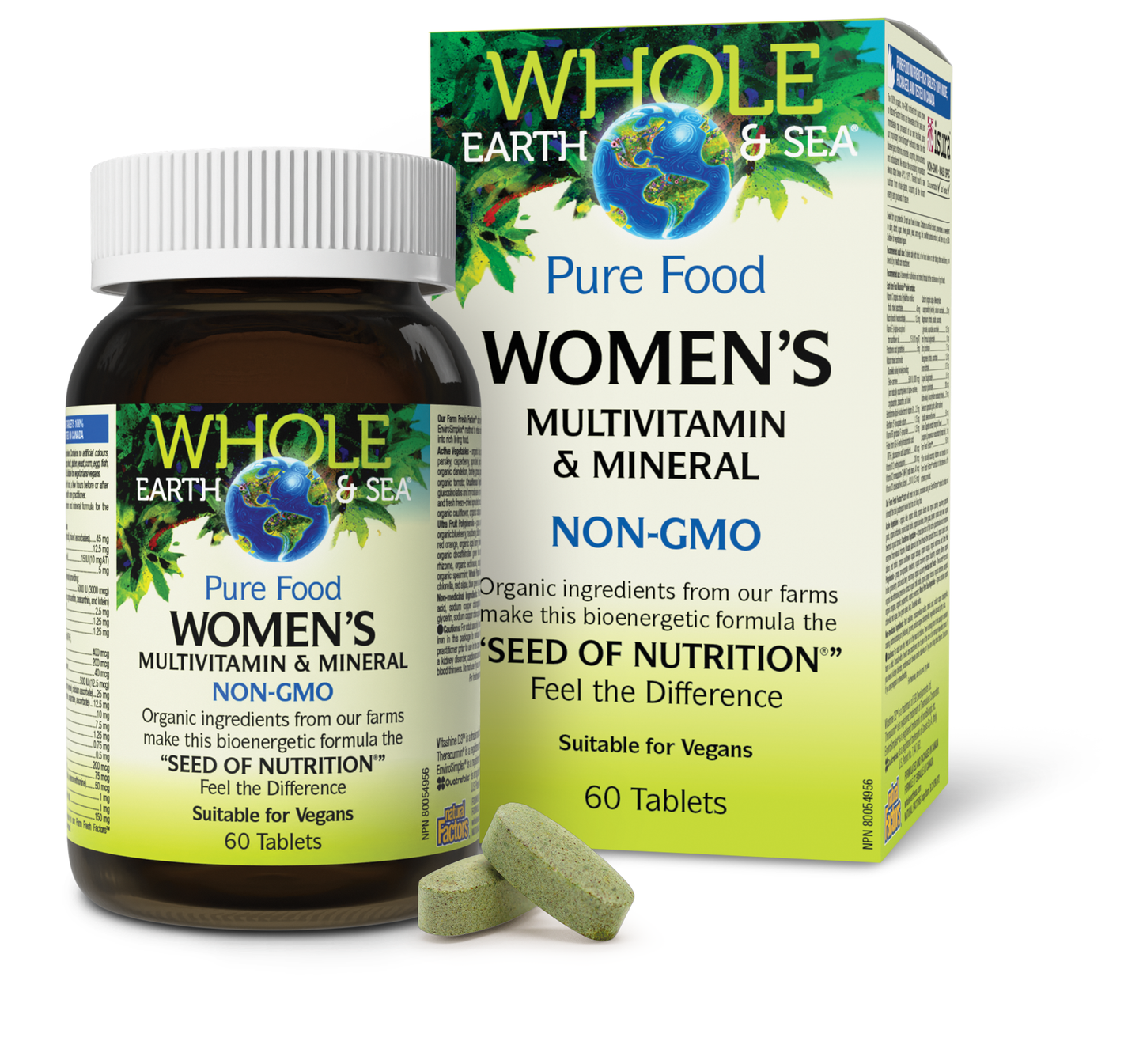 Key Ingredient
Quercetin
Quercetin is a natural plant pigment classified as a bioflavonoid. This key dietary antioxidant helps mitigate oxidative stress by scavenging and neutralizing free radicals in the body and improves the antioxidant activity of other dietary compounds such as vitamin C (Askari et al., 2021).
Learn More About Quercetin 
Find out why this little-known substance is the latest addition to your daily health regimen. 
Learn More
Key Ingredient
Cranberry
For many people, these tart North American berries are too lip-puckering to eat fresh. Thankfully, cranberry extracts offer an even more concentrated source of antioxidants than their fresh counterparts.
What are the Benefits of Cranberry? 
Find out how adding cranberry to your supplement regimen can support your health.  
Learn More
Key Ingredient
Echinacea
Echinacea, a popular flowering plant native to North America, is no stranger to health enthusiasts. Echinacea may be beautiful to look at, but did you know it also has a long list of health benefits?
What are the Benefits of Echinacea? 
Find out why this plant is so much more than a nice addition to your garden.  
Learn More
Key Ingredient
Licorice Root
Before it became a popular culinary ingredient, licorice was used as a medicine by ancient civilizations throughout Europe and Asia. 
What are the Benefits of Licorice Root?
Find out how adding Licorice Root to your supplement regimen can support your digestive health.  
Learn More
Key Ingredient
Milk Thistle
This Mediterranean herb with spiky purple flowers, named after its milky white veins, has been treasured for its healing properties since the first century AD.
What are the Benefits of Milk Thistle?
Find out how adding Milk Thistle to your supplement regimen can support a healthy liver.
Learn More
Key Ingredient
Oregano
Oregano is no average herb. For fans of Mediterranean cuisine, oregano's unique aroma and flavour are definitely recognizable, but did you know that it has a long list of health benefits, including antioxidant and anti-inflammatory benefits?
What are the Benefits of Oregano?
Find out how adding Oregano to your supplement regimen can support your health.
Learn More
Key Ingredient
Turmeric
Native to Southeast Asia, the brilliant yellow spice turmeric is a member of the ginger family. Arguably the best-known botanical today, the use of turmeric for both culinary and medicinal purposes dates back nearly 4,000 years.
What are the Benefits of Turmeric?
Find our how adding turmeric to your supplement regimen can help support your overall health. 
Learn More
Key Ingredient
Pharma GABA
Gamma-aminobutyric acid, also simply known as GABA, has been clinically shown to be effective in helping soothe a racing mind.
What is Pharma GABA®? 
Find out how adding this natural form of the calming brain compound gamma-aminobutyric acid to your supplement regimen can help support your mental health.  
Learn More
Key Ingredient
Wild Alaskan Salmon
Wild Salmon Oil delivers essential fatty acids just as nature intended.
What are the Benefits of Wild Alaskan Salmon Oil?
Find out how adding this sustainably caught salmon oil to your supplement regimen can help support your overall health.  
Learn More
What Else Should I Know?
Medicinal Ingredients

Each Pure Food Maximizer™ tablet contains:
Vitamin C (organic amla (Phyllanthus emblica) (fruit), mixed ascorbates)
45 mg
Niacin (inositol hexanicotinate)
12.5 mg
Vitamin E ( d-alpha-tocopherol from sunflower oil)
15 IU (10 mg AT)
Pantothenic acid (pantethine)
5 mg
Natural mixed carotenoids (Dunaliella salina) (whole) providing:
Beta-carotene
5000 IU (3000 mcg)
(and naturally occurring levels of alpha-carotene, cryptoxanthin, zeaxanthin, and lutein) Benfotiamine (lipid-soluble form of vitamin B1)
2.5 mg
Riboflavin (5'-phosphate sodium)
1.25 mg
Vitamin B6 (pyridoxal-5'-phosphate)
1.25 mg
Folate (from (6S)-5-methyltetrahydrofolic acid (MTHF), glucosamine salt, Quatrefolic®)
400 mcg
Vitamin B12 (methylcobalamin)
200 mcg
Vitamin K2 (menaquinone-7) (MK-7) (natto bean)
40 mcg
Vitamin D3 (cholecalciferol, lichen)
500 IU (12.5 mcg)
Calcium (organic algae (Mesophyllum superpositum) (whole), calcium ascorbate)
25 mg
Magnesium (citrate, malate, succinate, glycinate, aspartate, ascorbate)
12.5 mg
Iron (ferrous bisglycinate)
10 mg
Zinc (picolinate)
7.5 mg
Manganese (citrate, ascorbate)
1.25 mg
Boron (citrate)
0.75 mg
Copper (bisglycinate)
0.5 mg
Chromium (picolinate)
200 mcg
Iodine (kelp) (Ascophyllum nodosum) (whole)
75 mcg
Selenium (sprouted garlic (Allium sativum) (bulb), selenomethionine)
50 mcg
Lutein (Tagetes erecta) (marigold flower)
1 mg
Lycopene (Lycopersicum esculentum) (tomato fruit)
1 mg
Farm Fresh Factors® †
150 mg
†The naturally occurring vitamins and minerals in our Farm Fresh Factors® contribute to the potencies of the nutrients provided.
Our Farm Fresh Factors® starts with fresh raw plants, processed using our EnviroSimplex® method to retain and intensify the total goodness of whole food into rich living food.
Active Vegetables – organic kale, organic alfalfa, organic cilantro leaf, organic parsley, caperberry, sprouted garlic, organic artichoke, organic black radish, organic dandelion, barley grass, pepper, organic celery seed, organic beetroot, organic tomato; Cruciferous Vegetables – A broad spectrum of fully active glucosinolates and myrosinase enzymes from wasabi rhizome (Wasabia japonica) and fresh freeze-dried sprouted broccoli, organic upland cress, daikon, red radish, organic cauliflower, organic cabbage, organic arugula, organic watercress leaf; Ultra Fruit Polyphenols – grape, pomegranate, strawberry, organic cranberry, organic blueberry, raspberry, bilberry, organic Indian gooseberry, schizandra berry, red orange, organic açai berry; Herbals and Plants – Theracurmin® curcumin, organic decaffeinated green tea extract, organic milk thistle, organic ginger rhizome, organic echinacea, marigold, organic oregano, organic peppermint, organic spearmint; Whole Plant Sea Vegetables – organic spirulina, organic chlorella, red algae, blue green algae, kelp, Dunaliella salina.
Non-medicinal Ingredients

Plant cellulose, croscarmellose sodium, stearic acid, sodium copper chlorophyllin, coating (carbohydrate gum [cellulose], glycerin, sodium copper chlorophyllin), vegetable lubricant (palm), silica.
Dosage

Recommended adult dose: 2 tablets daily with food, a few hours before or after taking other medications, or as directed by a health care practitioner.
Caution

For adult use only. Keep out of the reach of children. There is enough iron in this package to seriously harm a child. Consult with a health care practitioner prior to use in the case of an estrogen-dependent cancer, if you have a kidney disorder, cardiovascular disease and/or diabetes, or if you are taking blood thinners. Do not use if you are pregnant or breastfeeding.
Allergy Information

Contains no artificial colours, preservatives, or sweeteners; no dairy, starch, sugar, wheat, gluten, yeast, corn, egg, fish, shellfish, animal products, salt, tree nuts, or GMOs. Suitable for vegetarians/vegans.
Where can I find this?
Find this product from one of our trusted independent natural health retailers.
Find a Retailer