---
Immune and Respiratory Helper 
---
Natural Factors Black Elderberry features ElderCraft® black elderberries from Austria, sourced directly from the farmers who nurture and hand-harvest their crops. This standardized extract is created using a unique solvent-free process that preserves and protects the antioxidant effects of anthocyanins, polysaccharides, and other beneficial micronutrients found naturally in elderberries.
Nutrient-dense black elderberries, the fruit from the black elder plant, have been used for thousands of years for their many health benefits. Native to Europe and North America, parts of the black elder were traditionally used to relieve fevers, support immune health, and heal burns.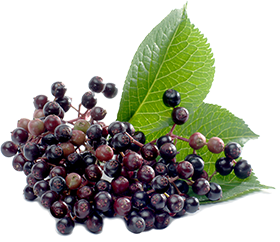 While elderberries can support the kidneys and skin, the benefits don't end there! Elderberries are used to help relieve symptoms of cold and flu, including congestion, fever, cough, and sore throat. Elderberries also support immune health. 
Adults and children of suitable age can use black elderberry gummies or softgels to support immune and respiratory health when needed. 
---
Products Containing Black Elderberry
Helps relieve symptoms of cold and flu and provides antioxidants
Learn More
Explore Our Ingredients
Out dedication to quality and purity begins with a dedication to using only the finest ingredients available. Learn about what these amazing ingredients can do for you.